Complete Systems
Autoline VX10 / VX04 Systems
For complete flexibility in roadmarking control
The Autoline VX10 roadmarking system has all the features you need for fast, accurate, efficient and cost effective road-marking.
It is packed with features to make line marking fast and efficient, such as gun offsets, look ahead triggering and seamless pattern changeovers. The data recording, GPS logging and easy office integration features will have you spending more time roadmarking and less time in the office. The modular design of the system also allows for cost effective installations.
With eight or more outputs the system is ideal for large or complex roadmarking machines. At the same time it has an intuitive interface, which is easy to learn and use.
The Autoline VX04 system has the same features as the premium VX10 system except the controller is limited to only four outputs. This cost effective model is designed for simpler machines that have less paint guns, but still require full functionality in the control system.
Waterproof and dustproof rugged aluminum enclosure
7" touchscreen with adjustable brightness
5 function keys with LED backlighting
Intuitive user interface for easy operation
Single screen for simultaneous display of all information – includes pattern details, metres painted, litres painted, speed, film thickness
Data logging add-on provides exporting of logged work using USB, email, or the cloud
In the field software upgrades as new features become available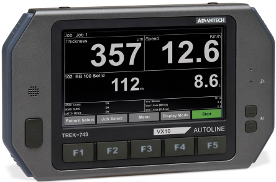 Each unit has 8 programmable gun outputs
Output offsets help improve beads coverage over painted lines
Latch mode provides semi-automatic operation – useful for re-marking
Look ahead triggering
Fast / Slow gun control for two speed operation
Panel LEDs to indicate input / output activity
Diagnostics mode to test system operation
Large remote readouts
Simultaneous dual Smartswitch use
Enclosure and connectors waterproof to IP65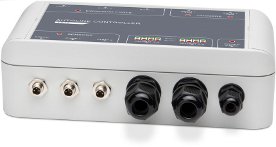 Improve productivity with the Smartswitch seamless barrier generator.
Quick pattern selection
Change patterns without stopping
Improves application of multiple line patterns (eg barriers)
Cycle Lock allows for hands-free operation by providing full-automatic operation
Remote control of line adjustment settings
LHS and RHS versions available
Sealed push buttons
Enclosure and connectors sealed to IP65